The law of gravity that is. You know, when I tell people my what has happened to me – breaking my ankle/foot/leg while chasing cows, then what happened this past Friday, I really look and sound like a clutz. But I'm not. Not really.

This past Friday I went to my moms house, like any other weekend. We did our normal stuff – she took me to run errands – and then after I put Levi to bed we went to Walmart. I had to do some window shopping for the baby. I mean after all, I only had 4 more weeks until I was going to be induced. So I wanted to get an idea of what I wanted to get for baby girl. My foot (the one I broke in Honduras) had been bothering me all day, so we kept our trip to Walmart short and headed home. Around 10:30 I decided that I was going to take a shower before bed and hoped that it would help my foot feel a bit better. So I did what I had to do to get ready for bed – you know, brush teeth, take meds, etc. etc. and around 11:00 was ready to get in the shower. I had the water on already so that it would be the right temperature, I opened the door to the shower, stepped in and then fell. I landed on the door track on my shin. It hurt like crap and I wanted to cry. But the funny thing was, as I was falling I tried to grab the wall (um smooth wall – nothing to grab onto, LOL) and in doing so, I knocked down the shower head – in this shower they have one of those hand held shower heads that you can take down, and so when I knocked it down, I was so worried about it spraying OUT of the shower, that I was only thinking of shutting the door so that I wouldn't flood my moms bathroom. I wasn't worried about me or anything else at that moment.


Lovely shots of the bruises from me falling...



I finally got up (my previously broken foot wasn't co-operating) and even though my leg hurt, I took my shower. I then got out of the shower, got my nightgown on and went and sat on the bed. Within 5 minutes though I realized I was bleeding. No it was not my leg, it was the baby. I freaked out, jumped up, took off my nightgown (because it had blood all over it) wrapped myself in a hand towel – ok, so I didn't exactly wrap myself in it, but when I grabbed the towel, I didn't realize it was a hand towel, and being fat and pregnant, and trying to cover myself with a hand towel, well I am sure I looked funny as hell. Anyway, I am running through my moms house a little after 11, naked besides the hand towel, and everyone is sleeping, and I am literelly gushing blood all over the house, and I am yelling for mom to wake up because we have to go to the hospital. She gets up, comes with me to the bathroom and I tell her to please get me some underwear and put some pads in it so that I can wash myself off again, get them on, and we can go. So she does, and I do, and then I get dressed and come out into the bedroom thinking my mom is ready to go to the hospital. I sat down on the bed and had to laugh.

My mom, who was thinking more clearly than I was, was still in her pj's with rubber gloves on, and had the carpet cleaner and a brush out. She was cleaning the blood up off of the carpet. I am sittin here hurrying her along in my mind, and laughing out loud because she is cleaning the carpet. If It was me, I wouldn't have thought of that. But she was right on 2 reasons. 1) She has white carpet, and do you know what happens when blood sits on white carpets??? Exactly. And more importantly 2) Rob was going to stay with the kids while she took me to the hospital, but I had woken up Jordan to come and sleep in the room with Levi in case he woke up. And if she woke up and saw all of that blood, she would have had a fit and been hysterical not knowing what had happened.

So we get the carpet cleaned up, and we make it to the hospital. I knew that I was going to have this baby that night, and I was ok with it. I was just worried that maybe something had happened to her and I prayed that she would be ok. So the doctor comes into the room and says it looks like you have had a placental abruption, and we are going to do an emergency c-section because the baby needs to come out NOW. And like that the room was filled with doctors. I made sure though that I spoke up and said what had been on my mind, and what was needed to be said.

"If you are going to cut me open, then I need you to tie my tubes"

The doctor asked me if I was sure, and I assured her that yes, 8 was enough, and if I was going to have any more children, they would be gifted to me, I would not be birthing them. So it was agreed. She told me that when I was in the OR signing the consent to surgery forms, she would also have me sign the consent to a tubal form. Only as they were putting me to sleep, they had yet to bring me the tubal forms. I had signed the other forms, just not the tubal. I was yelling that they either bring me the forms now, or they had better do the tubal, and I would sign them when I came too. They brought then as I was falling asleep, and I barely remember signing them. I just know that I did. And they keep telling me that they did the tubal as well. I guess I will see with in the next year if thats true or not, LOL.

The next thing I remember is waking up and the doctor askin me if I was in pain. Like a dummy I said No. Um, I was still under the influence of the general anesthesia, but yeah I was in pain. You just sliced me open, took out a baby, tied my tubes, and then stapled me back together. Do you even have to ask? Just give me the feel good meds man.

The next thing after that I remember is them telling me that the baby was ok, she weighed 6 pounds 2 ounces, and that I couldn't see her now, but I could see her in the AM. I cried and cried and my mom finally went and took some pics on her cell phone of the baby for me. I really couldn't see much, but I felt a bit better, and calmed down enough to go to sleep. I am sure whatever meds they put in my IV bag helped me calm down and sleep too. I don't remember much else about the rest of the night except I was mad because I wanted someone to take off the massage leg things they put on your legs. It was hot in the room, and those things just made me that much hotter. But no one came into my room from 2:30AM until after 8AM.

It wasn't until after 11AM that I was able to see my baby girl. She is so tiny. But for one that is 5 weeks early, she was pretty big. 6 pounds, 2oz and 19 inches long. She is darker than the rest of the kids, I think maybe even darker than Johan. So it looks like her and Johan are the only Spanish looking kids out of the bunch, LOL. And I just might be lucky enough to finally get a child with curly hair. But I wont hold my breath.

Oh, and her name… Well, let me introduce you to – Ari Geronima Santos Leon. (pronounced ah-ree heh-ron-E-ma) My pretty little girl.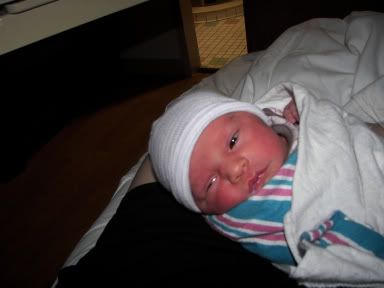 Levi loves his baby sister - but for only 2 or 3 minutes at a time...



Jordan loves her baby sister all of the time...



Andre does too...



Look how little her arm is...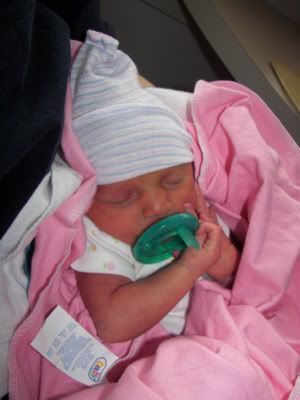 She is on a king sized bed. She looks so tiny. Well she is tiny, but still...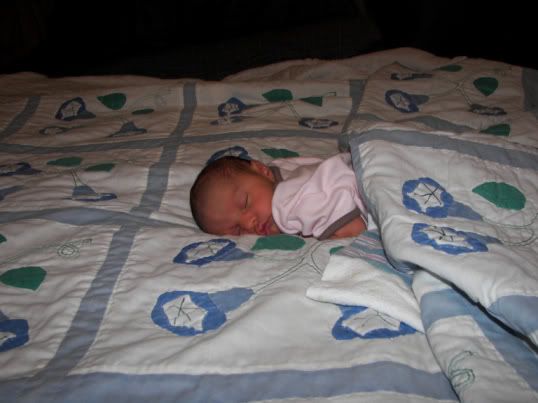 We are home now, and we are all doing well. Ari has jaundice, and while her numbers are still going up, they have slowed down in how fast they are going up, and the Dr. thinks that it should peak tomorrow. We will go in on Friday for her 1 week check up and if needed, we will have her blood drawn again.