Well Jennie thinks my blog is anyway, LOL.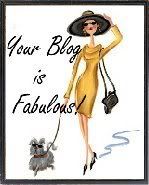 For receiving this award, the rules state that I have to mention 5 things that I am addicted to, as well as nominate 5 blogs.
So lets get started with 5 things I am addicted to...
Books. I love to read just about anything. I love to learn about new things, and just books in general
My husband and children. No explanation needed.
Tea. If I was still in Honduras the answer would be Pepsi. But now that I am back in the US, I don't drink soda, just my tea. I will be sending back BOXES and BOXES of tea so that I dont run out like last time. And I had a hard time finding tea like I like (a hard time as in - not being able to find it at all)
Wal-Mart. I *heart* Wal-Mart. And I seem to have passed the Wal-Mart loving gene on to my children, or Mickey at least. Before I left Honduras Mickey said to me "Mommy please send me a picture of Wal-Mart". She is her mothers daughter, LOL.
The pulperias. Um, what can I say. I like the convience of being able to go, or send one of the kids, to the pulperia for whatever I need. Yesterday I had to go to Food Lion and thought to myself, man where are the pulperias when you need one? LOL.

And here are the 5 blogs that I am gifting the award to.
*~*~*~*~*~*~*~*~*~
Then, I also got a Friends Awards from
Anelys
over at 3 Blooming Buds. The award states: "These blogs are exceedingly charming. These kind bloggers aim to find and be friends. They are not interested in self-aggrandizement. Our hope is that when the ribbons of these prizes are cut, even more friendships are propagated. Please give more attention to these writers. Deliver this award to eight bloggers who must choose eight more and include this cleverly-written text into the body of their award."
And here are the 8 lucky winners of this award.