You know alot of people (I think most who talked to me) told me I was crazy for taking all 7 of my kids, by myself on 3 planes to Honduras. And they felt sorry for me too. To be honest, I was a little nervous about how they would act, but not to to nervous. I was more excited that we were on our way home.

The trip started out on a good note. You see, my mom didn't want to take me to the airport. She didn't think she could handle saying goodbye to me, and to all the kids. Here I was, her only daughter moving thousands of miles away from her, but I was also taking more than half of her grandkids thousands of miles away as well. And this is the half that she saw at least once a week, if not more. So she didn't want to say good-bye. And I understood. So instead she called a friend, who is the owner of a transportation company and set it up with him to pick us up in a 15 passenger van, and would also bring a cargo van for all of our luggage. Well when he got there to pick us up, he had the cargo van for the luggage, but for us he had an awesome white stretch limo. I had only been in a limo once before in my life, when I went to my junior prom. It was a 6 person limo, and we had managed to fit 10 people in there, so needless to say, this time it was much much MUCH nicer. The driver even had brought some Veggie Tale cartoons for the kids to watch on the way to the airport.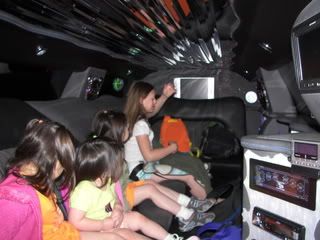 We got to the airport somewhere around 1:00AM, and I moved all of our luggage up to the front of the line (so that I wouldn't have to push it everytime someone moved to the counter) and then we got in line.



thanks mamasprout for the advice on using the buckets!!

We were done with checking in sometime around 2:30AM/3:00AM and I made the kids go through security. There was no problems at the airport, other than the kids being excited and tired. And if you are not a parent, let me tell you that is not a great combination. They become extra excited due to the tiredness, LOL. But all in all they were good.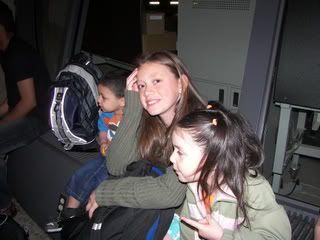 We got on the first plane, which took us to El Salvador, and they went to sleep for most of the trip. When they were awake, they ate breakfast and played with the (new) toys that I had brought for them to have (only) on the (first) plane.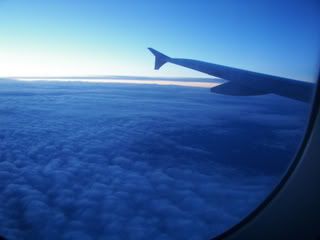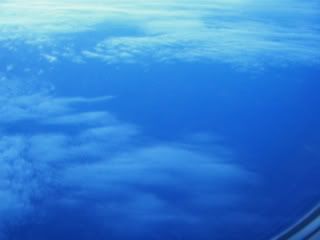 On the plane ride to El Salvador, they played with (new) toys that I got for them for (only) this part of the trip. (*hint for those who will be traveling with little kids. Get some new toys that they have never seen before and only let them play with them for certain parts of the trip. That way they toys stay new, and the kids stay occupied).

Then we got to El Salvador where we had an hour and a half wait for our second leg of the trip. The kids were still tired from not having had a full nights sleep, and were a tiny bit cranky, but still were good. Levi was the biggest crank pot of all because he wanted to get on the floor and play. But at six months old, well he just didn't understand why I wouldn't let him. The plane ride from El Salvador to San Pedro Sula was a quick flight - all of 45 minutes or so - and the kids were great on that flight as well.

Then we get to San Pedro Sula. We arrived at 9:45AM and were supposed to have an hour layover there then catch the last flight to La Ceiba, landing in La Ceiba at around 11:30AM. Well for whatever reason we didn't even leave San Pedro Sula until after 12:00 noon. So that wait in San Pedro was alot longer than an hour. By this time Levi wanted another bottle, but I didn't have any water to make him one, and I didn't have any water either (thanks to the whole you can't take liquids on the plane). Nor did I have any money - American or Honduran. Well I had change, but still, no bills. I managed to get the cranky lady at the coffee thing in the middle of the lounge to sell me a cup of warm water (not from the tap!!) for 5 Lempiras, which came to a quarter. I had a quarter so I bought the water. Crisis adverted, LOL.

When they finally called us to board the plane, I was worried because I had heard tons of horror stories about TACA losing luggage - especially if you fly all the way to La Ceiba. However walking to the plane, I saw all of our buckets being loaded onto the plane and was able to relax. I am guessing that since this plane only holds 12 passengers (or they only take 12 passengers) and were counted for 8 of those 12, that the likelyhood of them "remembering" our luggage was high, and if they "forgot" someones luggage, it would be one of the other 4. Lets hope that everyone on that flight had there luggage at the other end.

Now this last plane was a plane that I didn't really want to get on. It was a pretty plane, color wise and all the kids ooo-ed and aaah-ed over how pretty it was, but it was a propeller plane. I wish I had taken a picture of it - but trying to coral 6 children across the tarmac to our plane, (and keep them from running off and looking at all the other pretty planes) and carrying one that weighed approximately the same as a heifer, well that would have made taking a picture next to impossible. One that was not pressurized, and it was loud, and it bounced up and down while in the air, and it made my ears hurt the entire plane ride. I swore that I would NOT ever ride in a plane like this again, and when I travelled to Honduras again, I would just take a bus from San Pedro to Tocoa. I hated that plane. It was so loud - Lana was sitting right next to me, and cried the entire time - I am assuming because of her ears - and by cried I mean SCREAMED - and I couldn't hear her over the sound of the engine. (After my trip home, where I took a bus to San Pedro Sula from Tocoa, I have changed my mind. I will travel all the way to La Ceiba - even ride in that crappy plane - as long as I don't have to ride in the crappy buses. Ugh. I had forgotten how much I hate to ride in those buses)

We finally landed in La Ceiba, we made it through customs and immigration and what not, and the kids were so happy to see there Papi (and so was I for that matter) but I was ready to go home. I wanted to see my home, and get settled in. We split up into two trucks and headed home. Well not home actually, we headed to my in laws first. We spent about an hour there, then we headed home. It was funny though, the entire time in the car was probably 3 hours or so, and I didn't say much. Just took in all of the scenery and being next to my husband. Its funny that after a bit of separation, you feel a bit embarrassed (or something) being next to someone, when you should feel at ease - especially since this someone is someone that you have spent the last 7 years with, and plan on spending the rest of your life with. Or maybe I am just weird, who knows. But it was like that the last time we were apart for a bit. It took about 6 hours or so to get back to normal.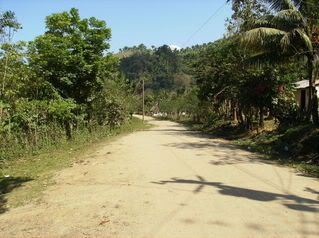 When we got home, I was pleased to see the house.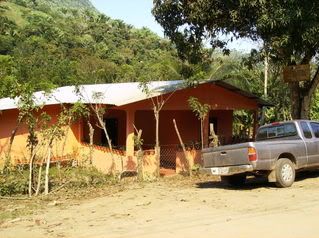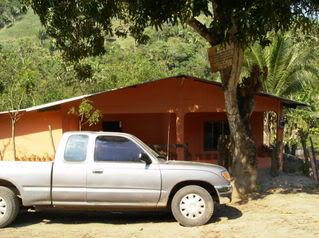 Not so much pleased with the color (orange and yellow tie-dye,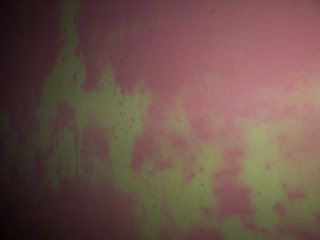 thanks to the lime in the cement that wasn't totally dry/cured), but with the house in general I was very pleased.

My first thought was, I can't wait to tell Matt that there is a house, LOL. Matt is a family friend and he kept saying I would end up going and there would be no house for me to live in. That the money that was sent prior, for the house, was spent on other things etc. etc. I kept telling him that my in-laws are people that I trust, and he would just laugh. The kids were excited to see there rooms and to get settled in, and they were even more excited to see that we now had a dog. Sungi. (In one of my previous posts, I posted about Sungi getting ran over on purpose in front of our house).

It was nice to be able to sit down in my own home, with my children, and my husband, and have everything like it should be. All of us together. Me being able to talk to my husband and see the expressions on his face, and being able to touch him, and him being able to hug the kids and meet Levi for the first time, and for him to be more than a voice on the phone, or a face on the TV/computer screen (I would put videos of him on for the kids).

The kids enjoyed being able to go outside and play and get dirty, and to see the chickens.




And Lana, who at first was scared to go out the back door, she loved to watch the chickens.




and fall asleep watching the chickens...





And me, I loved the scenery that I got to wake up to each and every day.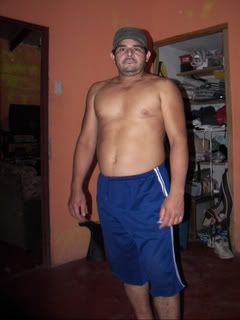 Oh wait - that's not the scenery that I was talking about...OOPS.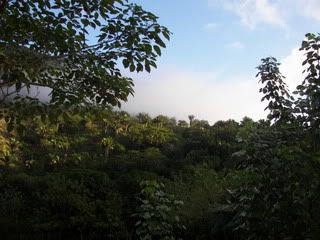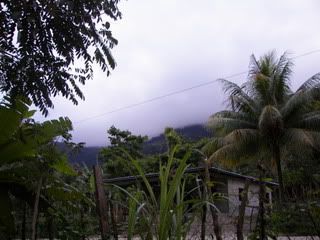 I can't imagine having to live anywhere else. I wouldn't want to.