Welcome to the first (and probably only) episode of Kitchen Sink Cooking. (I am calling it kitchen sink cooking, because that is how I cook. I make a recipe, then begin adding all sorts of things to the recipe that originally wasn't there - I can add everything including the kitchen sink) I would like for this to become a weekly recipe thing, but I know me, and I also know that there are only 34 more days left until I go back to who knows when internet, but maybe I can get at least another two or three episodes of KSC.

I am not the best cook. I make certain things really well, but they are special meals, not everyday meals. For instance, I make an awesome lasagna and cheesecake. But it isnt something that I can make on an everyday basis. Not even on a weekly basis - it costs to much money. Another thing I do well is I cook for alot of people really well. When I have to cook for one or two people it never works out right. So I guess its good that I have so many kids - I can cook for an army all the time.

While in Honduras I lost alot of weight. 50ish pounds. And it wasnt due to any parasite either. At first it was because it was so hot that I just didn't want to eat. And add to that I had a bunch of work that I had to do, and get used to doing, that when it came time for everyone to eat, well I got everyone elses food ready and handed out, and by the time everyone had there plate, people were bringing their empty plates in the kitchen to be washed. So I would clean up the dishes and the kitchen and tell myself that I would eat when I was done. Then by the time I was done, I no longer was hungry, or I was just to tired to eat. Then I got pregnant. I found out I was pregnant right after my surgery, and poor Jordan was doing alot of the cooking (reheating) and because I was in the bed, I was out of sight, out of mind. I didn't want to make it any harder on her, so I wouldn't bother her about not eating. When I was really hungry, I would send her to the pulperia to get a cup o noodles soup, and that is what I would eat for the day. But that was ok to me because at the beginning of my pregnancy I just didn't want anything really. I didn't get sick, I just passed my days semi nausous. Then later in the pregnancy I would have cravings for certain foods, and they wouldn't be available. (Cheddar cheese was one of them). And if I couldn't eat what I was craving, then I wouldn't eat. Because if I tried to eat what I wasn't craving, I would just throw it up. There were times when all I had was some hard cheese over some fresh fried tortillas. The last month or so that I was in Honduras all I had was potatoes and ketchup. I would fry a potato just so that I could eat Don Julio's Ketchup. I went through a gallon of ketchup in two weeks. It wasn't until I got back in the US did I realize that it was what I was eating (or lack there of) that caused so much of my hair to fall out. Ari was taking all the nutrients she needed, and in doing so, she was causing my hair to fall out. (now I look super sexy - its growing back in, and so all around my head it is sort of fluffy looking under my thin thin hair, LMAO)

Now that I know what is available, and at a good price for us in Honduras, I am taking advantage of being in the US and looking up recipes that will work well in Honduras. I thought I would post them here for you. I would like to say that it will be a weekly post, but I know better. I have a bunch of recipes to share though, so we will see.


Today's recipe is Honduran Coconut Bread.

I got the original recipe from Olancho Bound Gringa's blog, and I like how easy it seemed to be, and it had ingredients that are readily available in Honduras so I decided to make it the other day.

When I first made it, I took the original recipe and doubled it. I also made some adjustments to it. I didn't have shortening, so I used olive oil. And I used splenda instead of sugar. Also in the directions - it says baking soda in the ingredient list, and baking powder in the instructions - and I used baking soda.

So I mixed up the batter, and put it in the pans. The batter made 3 loaves of bread. I made one loaf plain coconut, one loaf with dried cranberries, and one load with more splenda and cinnamon added to it. Then I decided to taste them. The plain coconut one wasn't to great. It tasted of baking soda. (and when I was putting the 8 tsp in, I had to open a new box of baking soda, and I may have added 1 tsp to much to the batter). The cinnamon and extra splenda was better, but still had the baking soda flavor to it. (I mixed up one batter, then split it into 3 different mixes). Then we tried the dried cranberry loaf. YUM. It was eaten up almost right away. The cranberries took away the baking soda flavor.



A side view of the three loaves that I made
The cinnamon loaf that I made. It isn't burnt, its just the cinnamon.
A view of the cranberry loaf.

Because I wasn't sure if the baking soda flavor had to do with me possibly adding 1 tsp to much, or if I should have used baking powder instead. So I went online and looked up what the difference was between the soda and powder, and decided that I was going to use baking powder in my next attempt. I also thought that since this would be for my family, muffins would be much better for my kids than a loaf that you would have to slice. If they were in muffin form, the kids could just grab one and go.

With all of that information, I went shopping, picking up some other items to make different versions of the coconut bread.




The ingredients used in todays muffins.


Here is the recipe, with the amounts, that I used (I tripled it because of my family size)
6 cups of flour
2 cups of sugar (

and I used sugar the second time around

)
8 tsp baking powder
4 tsp baking soda
1 tbsp salt
4 1/2 cups of milk (although I accidently misread the original amount, so that when I multiplied it by 3, I made it 6 cups of milk. oops)
2 tbsp melted shortening
1 tbsp vanilla
3 eggs, beaten
3 cups coconut
*dried pineapple
**crushed pineapple
** marachino cherries
***dried cranberries
Preheat oven to 350 degrees
Sift together the flour, sugar, baking powder, baking soda, and salt.
Add shortening, milk and vanilla. (

note to self, either warm the milk a little bit, or do not mix the shortening into the milk. Think about it. Melted shortening, being mixed into cold milk equals no longer melted shortening. Yeah, thats what I did

.)
Add in the beaten egg and coconut.
Bake at 350 for 1 hour in a greased loaf pan****.
*
Pina Colada Muffins
- I added dried pineapple to part of the coconut bread batter to make what I call the PC muffins. They were yummy. I had 12 ounces of dried pineapple that I cut up and added to the batter. However, I also had a 16 month old snacking on the pineapple while I was cutting it up. So I would say maybe 8 ounces of the dried pineapple actually made it into the batter.
Levi helping me seperate the dried pineapple. Some for the bowl, some for his mouth.
The dried pineapple - what was left after Levi.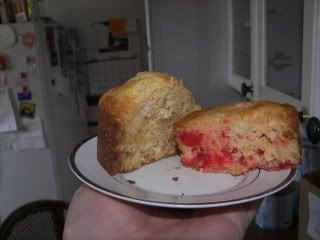 Pina Colado on the left, Hawaiin on the right.



** Hawaiin Muffins - I only call them Hawaiin muffins because when I thought of coconut, the cherries and pineapple together it makes me think of Hawaii. This one is my favorite out of all of the different muffin variations I made today. These muffins were extra moist due to the liquid from the crushed pineapples. (I did drain them, but obviously I wasn't able to take all of the liquid out, which was fine)



Here is the crushed pineapple and cherries all cut up and mixed together.
And the reason why, if you are going to cut the cherries you should wear gloves. (can you see how pink my fingertips are?)


***Dried Cranberries - I just mixed in a bunch of dried cranberries with some plain batter, just like I did with the bread.
And here are the cranberry coconut muffins. In the background are the Pina Colada muffins as well as the plain coconut muffins.



**** When I made it originally, I found that 1 hour at 350 was to long. BUT my moms oven has issues, so I don't know if it really was to long, or if it was the oven. When I made the jumbo muffins today it took them approx 25 - 30 minutes to cook. So when you make this bread, make sure you keep an eye on it, and on the clock to see if you have to adjust the time, or if it was just my moms crazy oven.