Wow. I got an award from Damama. She choose me as a Blog of Distinction. I am honored. And for once, speachless.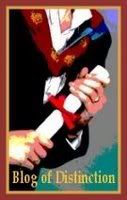 It was created by
Working Mum On The Verge
to honor blogs that make you, "think, laugh, cry or sigh." The only rule is you should pass it to another 5 blogs. This will be difficult since so many blogs I read fall into this category. I will pass it on to:
The More, The Messier
- because as a fellow mom to many children, she lets me, as well as the rest of the world, know that I am not the only one who is surrounded by crazy children, LOL.
La Gringa Mas Bella
- because she is going through the whole immigration battle, and still does it with a smile on her face, and can joke about it.
Mr. Smith Goes To Delhi
- anyone else who can move a crew (of 6 kids) to a different country, and can blog about the cultural differences, in such a funny way, deserves some type of an award.
Rocking Pony
- Karen is a down to earth, very nice, and very funny woman who I can count on to make me smile, and her handsome son Micah is such a sweetheart, he has my heart. Plus she is supermom. She has her own (AWESOME) etsy store, has a breeding kennel, horses, and a couple of kids. Like I said. Supermom.
Honduras Sprouts
- Adjusting to a new life in a new country is a hard thing to do. Mama Sprout is doing it, and shares her wisdom with me - via blog and via email - and I appreciate it more than she knows.
Thank you Damama for the vote. It makes me feel special and appreciated.
Now I am off to let everyone know how special they are.
And for those of you who didn't get an award, you are still special to me. I just had to chose 5.