First off, here is a picture of my hair. Not the best picture, but the best one you are going to get of me, after work and a shower, and exhausted. :) It does show off my forehead quite nicely, LOL.






And because I took a couple of pics of him tonight, here are a few of my poor little man. The poor baby, no one feeds him. He is just wasting away.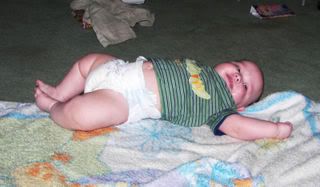 Levi is now almost 6 months old. Can you believe it? He will be 6 months old next Thursday. Where did the time go? He can sit up by himself, he can hold his heavy bottle (10 ounces!!) He can crawl - backwards. Although today he has learned how to get on his hands and knees and sort of throw himself/flop forwards, so by the end of the week he should be moving forward.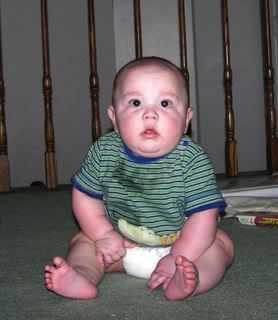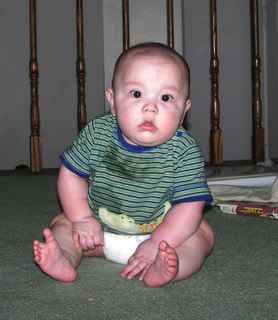 This whole getting ready to move, it has me somewhat hormonal. I can fly off the handle at the slightest provocation. I would love to say more about it, I am going to bite my tongue, and just try to make my point as nice as possible. This probably wont come across the right way, but it isnt meant to be snarky, or bitchy or anything like that. I am just responding to the comment.

To the anon poster that left me a comment today I am just going to say a few things. While I appreciate your concerns, you obviously only know about a portion of our past, in which I have blogged about, but you know nothing about our present, or our future. Nor do you know the whole story about what happened. He probably does seem like he is doing fine without me there. And he probably is. I am doing fine here by myself as well. But that isnt a marriage. A marriage is two people. It is a partnership. And that is what we are. Yes we had issues - caused by BOTH of us, and because of those issues, we both have grown in who we are together, as well as who we are seperately.

You also do not know or understand who my in-laws are. My in-laws would not lie to me to cover up for their son. They are not those type of people, thank God. It has already been proven.

And let me point you in the direction of something. My daughters will be fine. My sons will be fine. Their education will be more than fine. I am a mother first, above all else. I am doing this for my children as well. They deserve to have a mother and a father who are together. You talk about the missed opportunities for schooling because they will be in Honduras. Which, with homeschool, I am taking care of those opportunities. No worries. But by staying in the US, they will be missing out on all sorts of LIFE opportunities.

Oh and, if you care so much why not post who you are.

Lastly, does he really love me? That he does. That he does. He is at our house, by himself. Not with the mother of his children. (she is at her house with her husband - and if you had a clue as to how their relationship is with one another, you would know how I know for sure). You said alot of you are doubting his heart? Well good for you. Who and what you doubt means nothing to me. What matters is if I doubt his heart, or his sincerity. And I don't.