Lale and I got married in a civil ceremony in Honduras in November 2003. He had issues with a church wedding, because that means that it is forever. (what and 5 children isnt, LOL) So I agreed to wait until we had been together for 10 years to have a church wedding. Then he would feel comfortable enough to know that it was a forever relationship. (I know, I know) Well I have been hearing from a bunch of little birdies - that are my inlaws - that Lale is planning our wedding for when I get there. Which is awesome. It means he has realized, 3 years ahead of schedule, that we are forever.

The only problem with that is, I dont know when it is supposed to happen. Which means, I can't tell my family and friends when it is, so that they can to come down. What am I supposed to do for a dress? I found one that I am going to get, but it is custom made, and it takes 16 weeks or so to get it. What if I get there, and I lose alot of weight, then I have to have the dress taken in, that adds extra time to it as well. So many what ifs. And I can't ask him when he is planning the wedding, because I am not even supposed to know. AARRGG. Men. Doesnt he understand that this is something that he shouldn't be doing on his own?? Doesn't he realize that it is the BRIDES day?

Anyway, here is the dress that I am going to get, only instead of the red color, it is going to have blue instead. (I think. I still haven't totally decided). What do you think?



The Front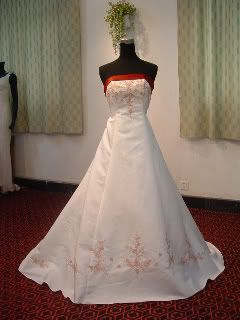 Detailed Front Picture
The Back