A long post with picture overload. :)

This past Saturday my mom had a family cookout. Sort of a good-bye cookout. I asked my mother who would be invited, and she said it would be me, and youngest older brother Dickie, and his wife Angie.

This is Dickie. I thought I took a picture of Angie, but I couldnt find one on the SD card.
I know how this sounds, and to be honest, I really do love my brother, and his wife. I just hate to spend time with them. Or talk to them on the phone. Not a visit (or talk) goes by without one (or both) of them saying something stupid or offensive. Today was no exception. I really don't know how I am able to keep my mouth shut, but I do. Maybe because despite the things that come out of their mouth sometimes, I still love them both.
Anyway, this post isnt about what was said, it was about that day. On Friday night I was missing my oldest older brother Alan, (well not quite my OLDEST older brother - that would be Tommy, but my oldest older brother that I talk to - confusing I know. Never mind) so I called him up. I was wishing that he could be here for Saturdays cookout. Especially since I was going to be able to see him in June, (that was when I was going to leave in June) but because my flight date got moved up, there was no way they would be able to get up here to see me before then, and there was NO way I would be able to afford to go and visit them. ANYWAYS... while talking to him, I felt that something just wasnt right with him, and I thought to ask him if he was here in MD. (He lives in KY). He told me no he was at home. Well my
brother
, who is going to be a pastor is a liar. Because when I got to my moms house on Saturday morning, guess who was there. Thats right my brother Alan, his wife Trisha, and their kids Alex, Matt and John. I knew it, I knew it, I knew it. Although, maybe I shouldn't say he is a liar, that is kind of harsh. Maybe I should say he is a good truth stretcher. I mean after all , he was at moms home, and moms home will always be our home right??
Let me introduce you to Alan.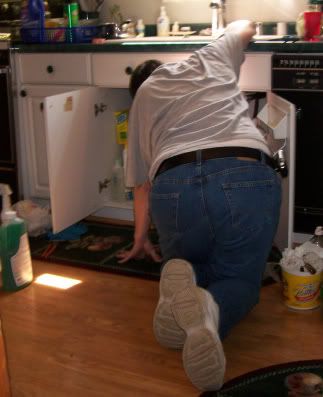 Oh wait, thats not his best side :)
Maybe this one is better... (can you see where I get my goofiness from?)
This one is better. As you can see, Mickey loves her Uncle Alan lots and lots.
And I would like to introduce you to Trisha, Alex (with Lana), Matt, and John.
It just made my day like you wouldn't believe. I missed him so much. I missed all of them. So I got to spend the day with them, as well as with Scott, Angie, my nephew Seth, my step sister Teresa, her hubby David, and their son Noah. The weather was perfect, and the kids had a blast and I just had a good time catching up with everyone.
And this is Seth.
I was able to get an ok picture of all the grandkids that were there. Although Noah didn't want to get in the moon bounce for a picture - but seeing everyone that was in there, I don't blame him ;)
Yes more than half of the kids in this picture are mine. There are 3 of the grandkids missing form this picture. Noah, who didn't want to get in the moonbounce, Jacob - who wasn't there, and Nick, who also wasnt there.
My mom got in the moon bounce too. I have proof.
Lana loved the moon bounce, so much so, that she fell asleep to all the bouncing. Levi hated it. (look at the grandkids picture above to see how much) I think the feeling scared him - even though no one was bouncing while he was in there.
Levi also got to spend time with his Aunt Trisha, and his Uncle Alan. Uncle Alan did an awesome job at putting Levi to sleep.
And I think he loved Alex the best, because he spit up on her quite a few times on Saturday and Sunday.
Lana also had an awesome time. She will grow up to be a great supervisor! And no kissing the supervisor while she is on duty. Johan came over to give her some loving, she wasn't having any of that thank you. She kept saying, DONT WANT PICO. (pico = kiss). I love my Lana bear, she is such a rough and tough cookie :)
And look at my twins. They were born 2 years 7 months 6 days apart. They look so much alike, its scary. I have pictures of them at the same age, and you can't tell that they are different kids.