Two weeks
Can you believe the boy is two weeks old already? I know when you have little ones in the house, the time goes by much faster. Does that mean time goes by 7 times as fast in my house? He such a sweet boy, and he is a PIG. He was eating 5 ounces, then an hour later another 3-4 ounces, then waiting 3-4 hours and doing it all over again. Trying to slow it down, I added 1 teaspoon of rice cereal to his bottles, and he is no longer eating like that. Instead he is eating 5 ounce bottles every 2 hours. So far this afternoon/evening he has eaten at 4pm, at 6pm, at 8pm and 10pm. 5 oz bottles each time. Some of them had cereal, some didn't. I dont want to give him to much cereal either. At this rate he is going to be bigger than the house in no time. He is also doing well holding up his head. I will put him on his belly for a bit, and he will raise up on his arms (his forearms like) and raise his head up and look all around. He can do that for 5 or so minutes before his neck muscles get tired.
Here are some pics taken today...
Lightning McQueen
Here is a picture of Johan's Lightning McQueen car. Only to Johan it isn't just a car. It is also his Lightning McQueen skateboard. Can you guess what happens when the boy gets on?


Yup, you got it, he falls down...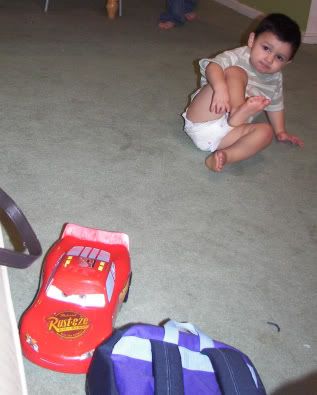 He does however, have no fear. I caught him standing on the "skateboard" at the top of the steps getting ready to skate (surf?) down. Thank God I caught him before he did it, because it is to cold to have to take 7 kids to the ER tonight.
Biz's Beat of the Day
Have any of you ever seen Yo Gabba Gabba? It is a semi new tv show that is on Nick Jr. My kids love it. Well on Monday when all the little ones were off from pre-school they were sitting there watching it, and Biz's Beat of The Day came on. (Biz is Biz Markie - from Just a Friend fame) and I heard all of the little ones - Lana, Johan, Isa and Mickey - doing the beat of the day along with Biz. It was so funny, I thought I would share it with you all... (don't you all just feel so lucky)


And Finally, Soldier Boy
Also Mickey came up to me today asking me if she was singing Crank Dat Soldier Boy right. I had no clue what she was even talking about. However I quickly found out. She had heard the song a couple of times while in the room with Jordan, and Mickey, being the musical child that she is, she memorized a good portion of it. So again, I am sharing... (she got shy though seeing me with the camera, so she didn't do nearly as well as she did when she was asking me if she was doing it right, LOL - and yes that is Jordan in the background trying to copy the moves on the video)
Well after all that excitement *insert eye roll here* that is my day, I am off to veg in front of the tv for the next hour until my boy wants to eat again...