I was going to post an update on my house in Honduras, but life with kids happened this morning, that I thought you would enjoy hearing about it more... See I am always thinking of my readers, LOL.
Lack of sleep, the beginnings of a cold, (both on the adult) and an unsupervised (sort of) 2 yr old does not a good combination make.
Usually Levi wakes up once a night for me, around 2:30 AM, then he eats and goes back to sleep until around 7:00ish - which is when my alarm is set to go off anyway. And sleep with that one interuption, while not ideal, is good. I can deal with it. Well last night when Levi got up at 2:30 AM, I got up, made his bottle, sat back down on the bed with him, and within him drinking 2 ounces I was asleep. I am guessing he was too, since he didn't cry for more. The only bad thing about that was he didn't get enough to eat. So come 4:30 AM he was up again. I made him another bottle, and this time managed to stay awake long enough (barely) for him to eat all 6 ounces. Well the alarm went off at 7:00, I rolled over turned it off and back to sleep I went. At 7:15 AM Mickey came downstairs telling me I needed to do her hair. (The bus for Mickey and Isa comes at 7:30ish) Still half asleep - think more along the lines of barely alive - I tried to get her to go to school with her hair just brushed, no ponytails, but she got upset because she said her bangs kept getting in her face. So I sent her for the brush, and ponytail holders and sat up, and when she came back, I put her hair in ponytails. Not once did I open my eyes. When she asked about Isa's hair, I told her to tell Jordan to pull it back for me. (can I say as much as her constant hormonal outburts drive me nuts, I love that girl, LOL) The next thing I knew it was 8:10 AM and Levi was ready to eat again. As I stumbled to the sink - still with my eyes closed - well one was half open so that I knew how much water was going into the bottle - I double checked with Jordan that the girls got on the bus (the bus stops in front of our house, so they just have to stand at the front door - I didn't send a 3 and 4 yr old out the door to some bus stop far away all alone, I promise) and made the bottle and went back to bed.
Before I fell asleep again, I called Johan and Lana into my room, turned on cartoons, put Lana in her toy and after feeding Levi, went back to sleep again. Periodically I would hear Dora or Diego say something, and the kids respond, and I would raise my head enough to make sure all was well. Well at 11:00 AM I finally was feeling well enough to open my eyes. (yes a hungry Levi woke me up) And at the foot of my bed, this is what I was greeted with...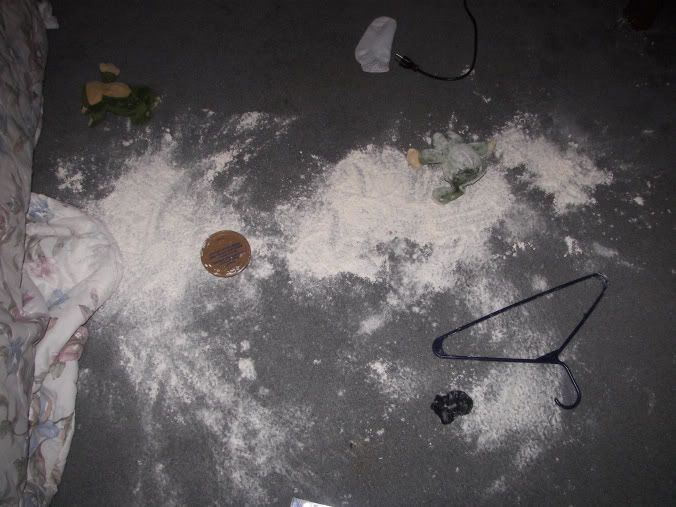 Do you see how it sort of looks like what a hurricane looks like on the satelite system on your local tv station? And the poor frog - one had managed to get away, but it seems one was not quite so lucky.

Because my bed is in front of the tv, Johan was on the floor in front of my bed, and while I saw him everytime I opened my eyes to check on him, I couldn't see the floor to see what he was doing, and I assumed (you know what they say about assuming) that he was being good watching cartoons.


Lana watching Blues Clues - my view when I would open my eyes to check on them

It has been a while since Lana had formula, so I forgot how much Johan loved to eat they powdered soy formula straight out of the can. I wish my brain was coherent enough that I would have thought about taking a picture of Johan BEFORE his bath. But since I didn't you just have to use your imagination. Think powdered wig as hair, and a lovely white crustiness all over his face. And while I fussed at him just a tad - reminding him that formula is not for big boys - I really couldn't get that mad at him since I was the one who was not fully awake. He was then put into the bath, and his clothes, along with the big pile already in the laundry room, into the washing machine. He looks so innocent though when he is fresh out of the bath.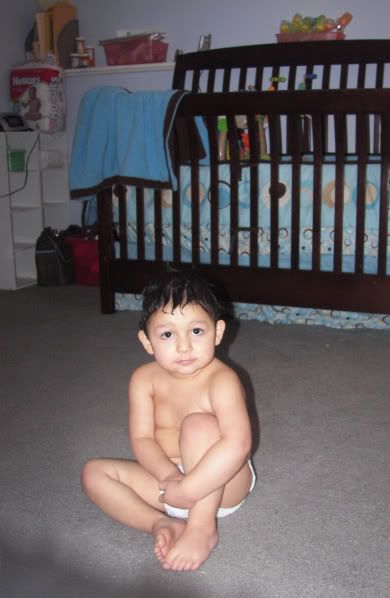 I figured that my day could only get better right? It sure did. I was done feeding Levi and went to wash out his bottle, and I stepped out of my room into the hallway. Or creek I should have said. It seems that yesterday when Andre stuck Lana in the big sink in the laundry room to wash her hands yesterday he took out the hose that drains the washing machine, and put it on the floor. Then forgot to put it back into the sink. So when he turned on the washing machine this morning, it also cleaned the floor.

I swear the laundry room floor has got to be the CLEANEST floor in the whole house. Two days ago Johan was "helping" me by dumping half a box of Dreft on the laundry room floor, and with a peice of sponge was scrubbing the floor. And that was after we got him dressed because I had to go somewhere. So I had to dump water on the floor and scrub it up then dump more water and towel dry it. Can I tell you that laundry soap - either liquid or podwer - on a concrete floor + water make a nice ice skating rink, without the ice. (I say liquid because earlier this year Mickey and Isa had dumped a whole 2.3 gallons of liquid tide - a brand new container - on the laundry room floor too, and again, we were skating all over the floor trying to get it cleaned up. Although it did make the basement area smell wonderful for weeks!)


My boys taking a nap - well supposed to be taking a nap. One is, one isn't. Can you see the mark on Johan's cheek where he made Isa mad and she scratched him. You would think he would have learned the first time she got him - she is worse than a cat.